The Postmortal (MP3 CD)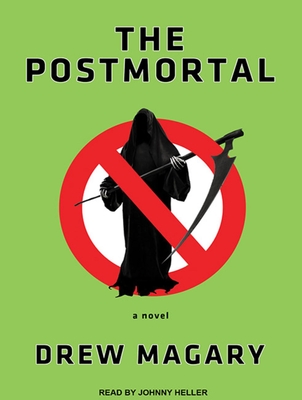 Description
---
John Farrell is about to get "The Cure." Old age can never kill him now. The only problem is, everything else still can . . .Imagine a near future where a cure for aging is discovered and-after much political and moral debate-made available to people worldwide. Immortality, however, comes with its own unique problems-including evil green people, government euthanasia programs, a disturbing new religious cult, and other horrors. Witty, eerie, and full of humanity, The Postmortal is an unforgettable thriller that envisions a pre-apocalyptic world so real that it is completely terrifying.
About the Author
---
Drew Magary is a writer for "Deadspin," NBC, and "Maxim." His first book, "Men with Balls," was released in 2008. "The Postmortal" is his first novel.

Johnny Heller has narrated some five hundred books and garnered a bunch of swell awards and accolades, including "Publishers Weekly" Listen-Up Awards, Audie Awards and nominations, "AudioFile" Earphones Awards, and selection as one of "AudioFile" magazine's Top 50 Narrators of the 20th Century.
Praise For…
---
"A must-read for fans of postmodern dystopia in the vein of Margaret Atwood, Chuck Palahniuk, and Neil Gaiman" ---Library Journal