The Sandman Vol. 2: The Doll's House 30th Anniversary Edition (Paperback)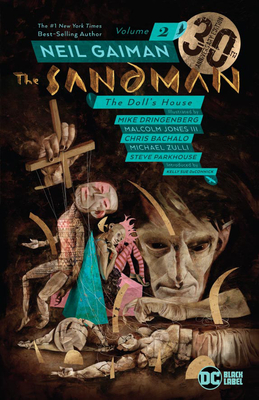 $19.99
Coming Soon - Available for Pre-Order Now
Description
---
The second installment of Neil Gaiman's seminal series, THE SANDMAN VOL. 2: THE DOLL'S HOUSE, celebrates its 30th anniversary with all all-new edition!

New York Times best-selling author Neil Gaiman's transcendent series SANDMAN is often hailed as the definitive Vertigo title and one of the finest achievements in graphic storytelling. Gaiman created an unforgettable tale of the forces that exist beyond life and death by weaving ancient mythology, folklore and fairy tales with his own distinct narrative vision.

During Morpheus's incarceration, three dreams escaped the Dreaming and are now loose in the waking world. At the same time, a young woman named Rose Walker is searching for her little brother. As their stories converge, a vortex is discovered that could destroy all dreamers, and the world itself.

Collects THE SANDMAN #9-16.
About the Author
---
Creator of THE SANDMAN and one of comics' most accomplished writers, Neil Gaiman is also the New York Times best-selling author of the novels Anansi Boys, American Gods, Stardust and Coraline, as well as the short story collections M Is for Magic and Smoke and Mirrors and the multimedia creation Neverwhere. He also co-wrote the Jim Henson Productions film MirrorMask with longtime collaborator Dave McKean, illustrator of the Gaiman-written graphic novels MR. PUNCH, Violent Cases and BLACK ORCHID. Among his many awards are the Hugo, the Nebula, the Eisner, the Harvey, the Bram Stoker and the World Fantasy Award. Originally from England, Gaiman now lives in the United States.
Praise For…
---
"The greatest epic in the history of comic books"--The Los Angeles Times Magazine

"One of the few comics that segued from the comics crowd, entering the intellectual and art worlds, winning over a large non-comics-reading audience..."--The Hollywood Reporter

"The Sandman is a modern myth, as well as a precis on why the stories we tell matter so much."--Playboy

"The landmark comic-book series that actually made Death seem . . . cool."--Entertainment Weekly