Someone Comes to Town, Someone Leaves Town (Paperback)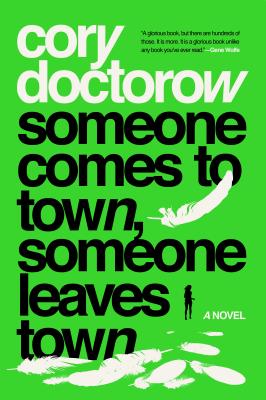 $17.99
Usually Ships in 1-5 Days
Description
---
The repackaged trade paperback of Cory Doctorow's miraculous novel of family history, Internet connectivity, and magical secrets--now with a new cover
Alan is a middle-aged entrepeneur who moves to a bohemian neighborhood of Toronto. Living next door is a young woman who reveals to him that she has wings--which grow back after each attempt to cut them off.
Alan understands. He himself has a secret or two. His father is a mountain, his mother is a washing machine, and among his brothers are sets of Russian nesting dolls.
Now two of the three dolls are on his doorstep, starving, because their innermost member has vanished. It appears that Davey, another brother who Alan and his siblings killed years ago, may have returned, bent on revenge.
Under the circumstances it seems only reasonable for Alan to join a scheme to blanket Toronto with free wireless Internet, spearheaded by a brilliant technopunk who builds miracles from scavenged parts. But Alan's past won't leave him alone--and Davey isn't the only one gunning for him and his friends.
Whipsawing between the preposterous, the amazing, and the deeply felt, Someone Comes to Town, Someone Leaves Town is unlike any novel you have ever read.
About the Author
---
Canadian-born Cory Doctorow is the author of the science fiction novels Down and Out in the Magic Kingdom, Eastern Standard Tribe, and Someone Comes to Town, Someone Leaves Town, as well as short story collections. He is also the author of young adult novels including the New York Times bestselling Little Brother and For the Win. His novels and short stories have won him three Locus Awards and the John W. Campbell Award for Best New Writer. He is co-editor of the popular blog BoingBoing, and has been named one of the Web's twenty-five "influencers" by Forbes Magazine and a Young Global Leader by the World Economic Forum.