Pirate Cinema (Paperback)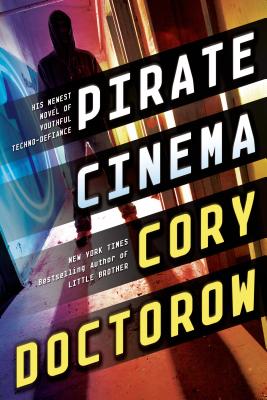 $9.99
Usually Ships in 1-5 Days
Description
---
From the New York Times bestselling author of Little Brother Cory Doctorow comes Pirate Cinema, a new tale of a brilliant hacker runaway who finds himself standing up to tyranny.
Trent McCauley is sixteen, brilliant, and obsessed with one thing: making movies on his computer by reassembling footage from popular films he downloads from the Net. In the dystopian near-future Britain where Trent is growing up, this is more illegal than ever; the punishment for being caught three times is that your entire household's access to the Internet is cut off for a year, with no appeal.
Trent's too clever for that to happen. Except it does, and it nearly destroys his family. Shamed and shattered, Trent runs away to London, where he slowly learns the ways of staying alive on the streets. This brings him in touch with a demimonde of artists and activists who are trying to fight a new bill that will criminalize even more harmless internet creativity, making felons of millions of British citizens at a single stroke.
Things look bad. Parliament is subject to the demands of a few wealthy media conglomerates. But the powers-that-be haven't entirely reckoned with the power of a gripping movie to change people's minds....
About the Author
---
Cory Doctorow is a co-editor of Boing Boing and a columnist for multiple publications including the Guardian, Locus, and Publishers Weekly. He was named one of the Web's twenty-five influencers by Forbes magazine and a Young Global Leader by the World Economic Forum. His award-winning YA novel Little Brother was a New York Times bestseller. Born and raised in Canada, he currently lives in London.
Praise For…
---
Praise for Pirate Cinema:
"His most cogent, energizing call-to-arms to date."
-Booklist, starred review

"Funny, thought-provoking, and glorious."
-School Library Journal (starred review)

"Fun...Pirate Cinema offers ample and appetizing food for thought."
-Seattle Times


Praise for the New York Times-bestselling Little Brother:
"A wonderful, important book...I'd recommend Little Brother over pretty much any book I've read this year."
-Neil Gaiman

"A rousing tale of techno-geek rebellion."
-Scott Westerfeld

"A terrific read ... A neat story and a cogently written, passionately felt argument. It's a stirring call to arms."
-The New York Times

"One of the year's most important books."
-Chicago Tribune

"A worthy younger sibling to Orwell's Nineteen Eighty-Four, Cory Doctorow's Little Brother is lively, precocious, and most importantly, a little scary."
-Brian K. Vaughan, author of the graphic novel Y: The Last Man

"Believable and frightening...Filled with sharp dialogue and detailed descriptions of how to counteract gait-recognition cameras, arphids (radio frequency ID tags), wireless Internet tracers and other surveillance devices, this work makes its admittedly didactic point within a tautly crafted fictional framework."
-Publishers Weekly (starred review)

"I'm a huge fan of Little Brother. Reading about m1k3y, Ange, and their friends helped me visualize the escalating intrusions on our freedom and privacy wrought by advances in technology. The book describes a dystopia that seems chillingly plausible-and near."
-Alex Kozinski, Chief Justice of the U. S. Court of Appeals for the Ninth Circuit

"Freaking cool...Doctorow is terrific at finding the human aura shimmering around technology."
-Los Angeles Times