The Hitchhiker's Guide to the Galaxy: Tertiary Phase (Hitchhikers Guide to the Galaxy) (Compact Disc)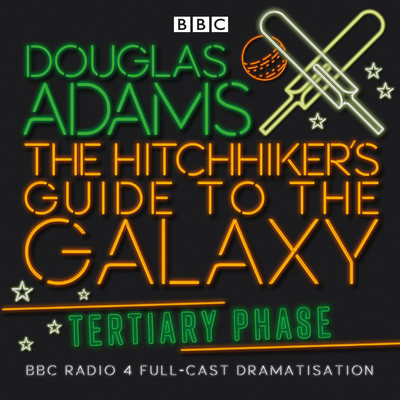 $32.95
Coming Soon - Available for Pre-Order Now
Description
---
Many of the cast of the original BBC Radio 4 series have been reunited for this new six-part dramatisation of Douglas Adams's book
Life, the Universe and Everything
. Amongst the returning cast are Simon Jones as Arthur Dent, Geoffrey McGivern as Ford Prefect, Susan Sheridan as Trillian, Mark Wing-Davey as Zaphod Beeblebrox and Stephen Moore as Marvin the Paranoid Android. Other famous names in these new productions include Richard Griffiths, Chris Langham, Joanna Lumley and cricket commentators Fred Trueman and Henry Blofeld. The original two series of 'Hitchhiker's' were massively successful on radio and have continued to be bestsellers on audio CD and cassette. This new release also features 25 minutes of material not broadcast on radio.
3 CDs. 3 hrs 10 mins.
About the Author
---
DOUGLAS ADAMS was born in Cambridge in March 1952. He is best known as the creator of The Hitch Hiker's Guide to the Galaxy, which started life as a BBC Radio 4 series. The book went on to be a No. 1 bestseller. He followed this success with The Restaurant at the End of the Universe (1980); Life, The Universe and Everything (1982); So Long and Thanks for all the Fish (1984); Mostly Harmless (1992) and many more. He sold over 15 million books in the UK, the US and Australia. Douglas died unexpectedly in May 2001 at the age of 49.