The Hitchhiker's Guide to the Galaxy: Quandary Phase (BBC Audio) (Compact Disc)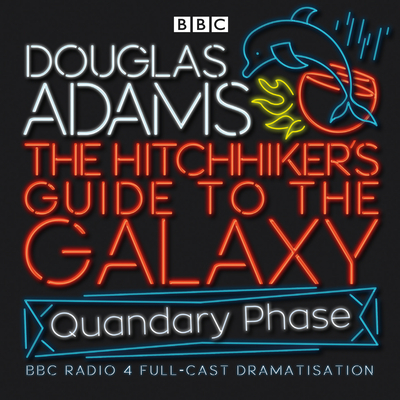 Description
---
The Earth has miraculously reappeared and, even more miraculously, Arthur Dent has found it. Returning to his cottage after... well... ages, he falls in love with the girl of his dreams. But Ford Prefect is on to something which might well burst Arthur's bubble. There is, after all, something very fishy about his girlfriend's feet, and what has happened to all the dolphins? Perhaps, at last, all will be revealed in God's Last Message to His Creation... Simon Jones returns as Arthur, Geoffrey McGivern as Ford and Stephen Moore as Marvin. William Franklyn is the Book, and there is a whole host of famous guest stars. This extended edition features 30 minutes of material not heard on BBC Radio 4. 'A fine continuation of the classic radio series' - Dreamwatch.
2 CDs. 2 hrs 25 mins.
About the Author
---
DOUGLAS ADAMS was born in Cambridge in March 1952. He is best known as the creator of The Hitch Hiker's Guide to the Galaxy, which started life as a BBC Radio 4 series. The book went on to be a No. 1 bestseller. He followed this success with The Restaurant at the End of the Universe (1980); Life, The Universe and Everything (1982); So Long and Thanks for all the Fish (1984); Mostly Harmless (1992) and many more. He sold over 15 million books in the UK, the US and Australia. Douglas died unexpectedly in May 2001 at the age of 49.