A Visual Guide to Minecraft(r): Dig Into Minecraft(r) with This (Parent-Approved) Guide Full of Tips, Hints, and Projects! (Paperback)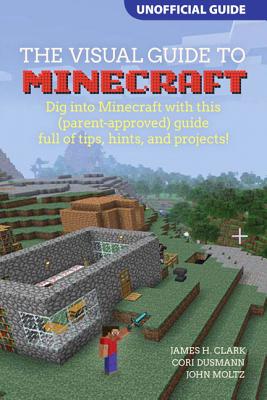 Description
---
Dig into Minecraft(R) with this (parent-approved) guide full of tips, hints, and projects A Visual Guide to Minecraft(R) is written with younger players in mind and offers page after page of engaging age-appropriate content about the game. The book is packed with pictures, descriptions, and easy-to-follow projects for building everything from simple shelters to awesome redstone contraptions. After purchasing the book, you get access to more than three hours of free video that step you through engaging Minecraft(R) projects, from building a farm to shooting off fireworks. You'll discover how to
Construct a quick shelter to help you survive your first night.
Craft and enchant items, and make potions.
Build nether portals and safely make your way around the nether.
Create fantastic redstone projects, from automatic doors and light sensors to TNT cannons and fireworks launchers.
Furnish your buildings with lights, appliances, paintings, flowerpots, and fireplaces-and add perfect finishing touches.
Make and manage efficient farms.
Customize Minecraft(R) with mods, skins, and resource packs.
Join a server and even host a game.
Minecraft(R) is a trademark of Mojang Synergies/Notch Development AB. This book is not affiliated with or sponsored by Mojang Synergies/Notch Development AB.
About the Author
---
JAMES H. CLARK is the Production Coordinator at The Lakeville Journal Co., a group of independently owned community newspapers. He is also an administrator of an online gaming community where his sense of humor, broad knowledge, and approachability have earned him the ironic nickname "old man," and he has become mentor and support for many of the players. James lives in Connecticut with his wife and daughter. CORI DUSMANN, author of The Minecraft Guide for Parents, is an educator, writer, and home-schooling gamer parent who lives in Victoria, BC, with her awesome writer, gamer, and tumblr addict fifteen-year-old. With a BA in Child and Youth Care (counseling), Cori has spent more than 20 years working with children and youth in daycares and classrooms, where gaming has often been a source of common ground. Cori regularly writes and reviews books for various print and online publications. JOHN MOLTZ has worked in corporate technology for over 15 years (three of which he actually enjoyed). He quit his job in 2012 to become a freelance writer because money can make you only so happy. Writing, on the other hand-that'll make you miserable forever. He lives in Tacoma, Washington, with his wife, son, and gigantic poodle.